Pope Francis, seated in a wheelchair, greets a child during the pope's general audience at the Vatican on Jan. 25, 2023. / Vatican Media
Washington, D.C. Newsroom, Jan 25, 2023 / 08:30 am (CNA).
Pope Francis has revealed a recurrence of the intestinal ailment that has plagued him in recent years while also professing to be in good health for his age.
He also indicated he has no plans to resign, although if he were to step down he reiterated that he would want to be called "bishop emeritus of Rome," rather than "pope emeritus," the title given his predecessor, Benedict XVI.
In a wide-ranging interview with the Associated Press published Wednesday that also included pointed remarks about homosexuality, the pope disclosed that diverticulosis, or bulges in his intestinal wall, had "returned."
At the same time, however, the 86-year-old pontiff — who is preparing to embark on a pilgrimage to South Sudan and the Democratic Republic of Congo next week — insisted he was in relatively good condition.
"I'm in good health. For my age, I'm normal," he told the AP on Jan. 24.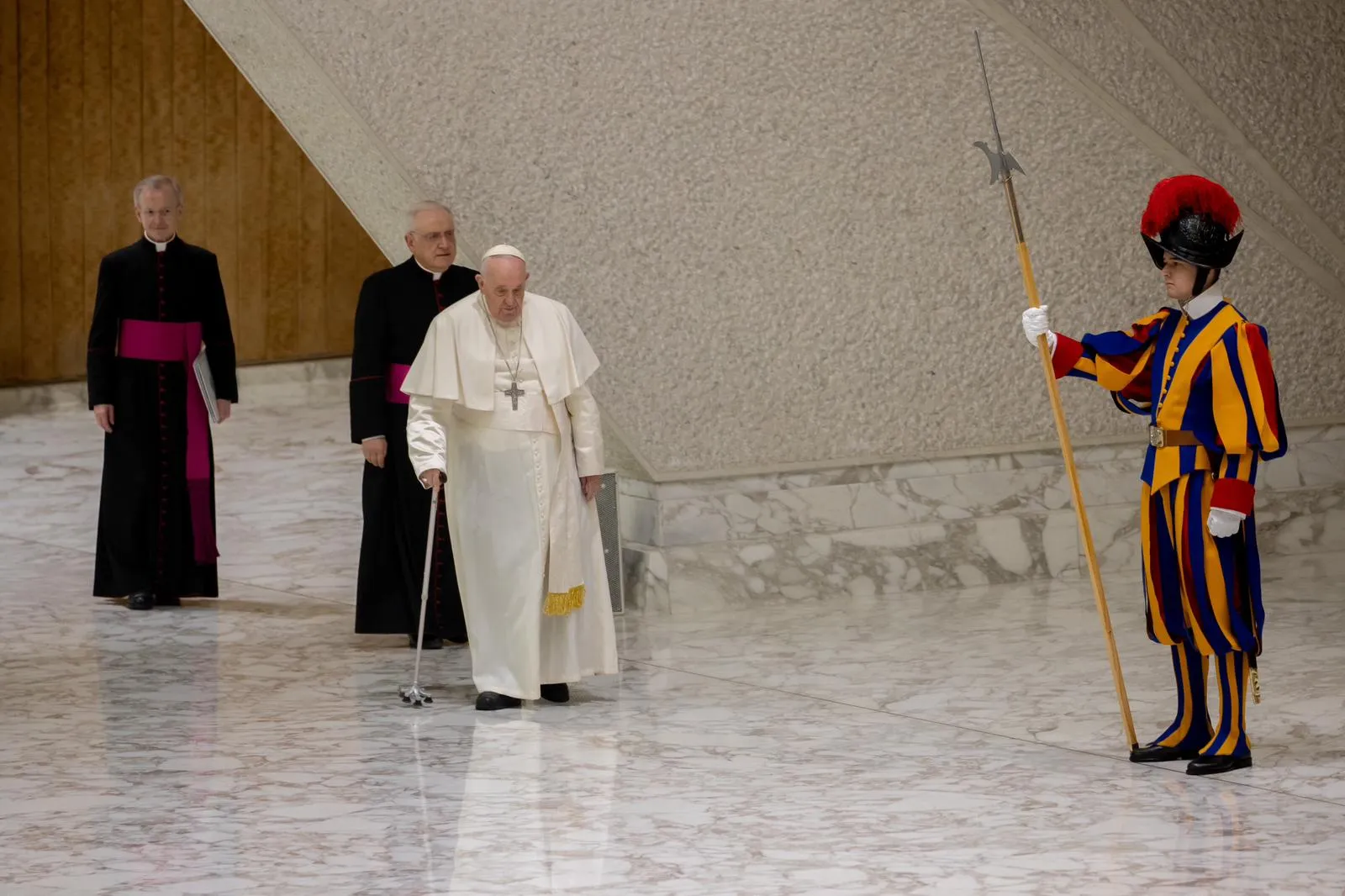 Rumors of Francis' possible resignation, and speculation that his health problems are more serious than the Vatican has acknowledged, have swirled since he underwent surgery in 2021 to have 33 centimeters (13 inches) of his large intestine removed for what the Vatican said was inflammation of his colon.
A slight fracture in his knee Francis suffered in a fall also has made it visibly painful for him to walk, making it necessary for him to rely on a cane and a wheelchair. But Francis told the AP that the fracture had healed without surgery after laser and magnet therapy.
Speaking about papal retirements, Francis dismissed speculation that he is preparing to issue norms for how future papal abdications will be handled.
"I'm telling you the truth," he said, adding that it was premature to "regularize or regulate" papal retirements because the Vatican had too little experience upon which to draw. Benedict XVI, who died Dec. 31, 2022, after nearly a decade of retirement, was the first pope to step down in nearly 600 years.
Francis hasn't ruled out retiring, and he repeated Tuesday that if he did so he would be called the bishop emeritus of Rome and would live in the residence for retired priests in the Diocese of Rome.
Benedict's decision to live in a converted monastery in the Vatican Gardens was a "good intermediate solution," he told the AP, but future retired popes might want to choose a different course.
"He was still 'enslaved' as a pope, no?" Francis said. "Of the vision of a pope, of a system. 'Slave' in the good sense of the word: in that he wasn't completely free, as he would have liked to have returned to his Germany and continued studying theology."