Pope Francis and Pope Emeritus Benedict embrace each other at the Vatican's Mater Ecclesiae Monastery, June 30, 2015. / L'Osservatore Romano.
Rome Newsroom, Jan 25, 2023 / 08:50 am (CNA).
In a new interview published Wednesday, Pope Francis said the death of Pope Emeritus Benedict XVI meant he had lost a "good companion" and a father figure. 
"I lost a dad," Pope Francis told the Associated Press, praising his predecessor — who died on Dec. 31, 2022, at the age of 95 — as a "gentleman." 
Francis said he would visit Benedict for counsel at the converted monastery Mater Ecclesiae in the Vatican Gardens, where the retired pope resided. 
"For me, he was a security. In the face of a doubt, I would ask for the car and go to the monastery and ask."
The 86-year-old pontiff called Benedict's decision to live in Mater Ecclesiae a "good intermediate solution" in the wide-ranging interview that also included remarks about the Church's stance on homosexuality, the German Synodal Way — and his health.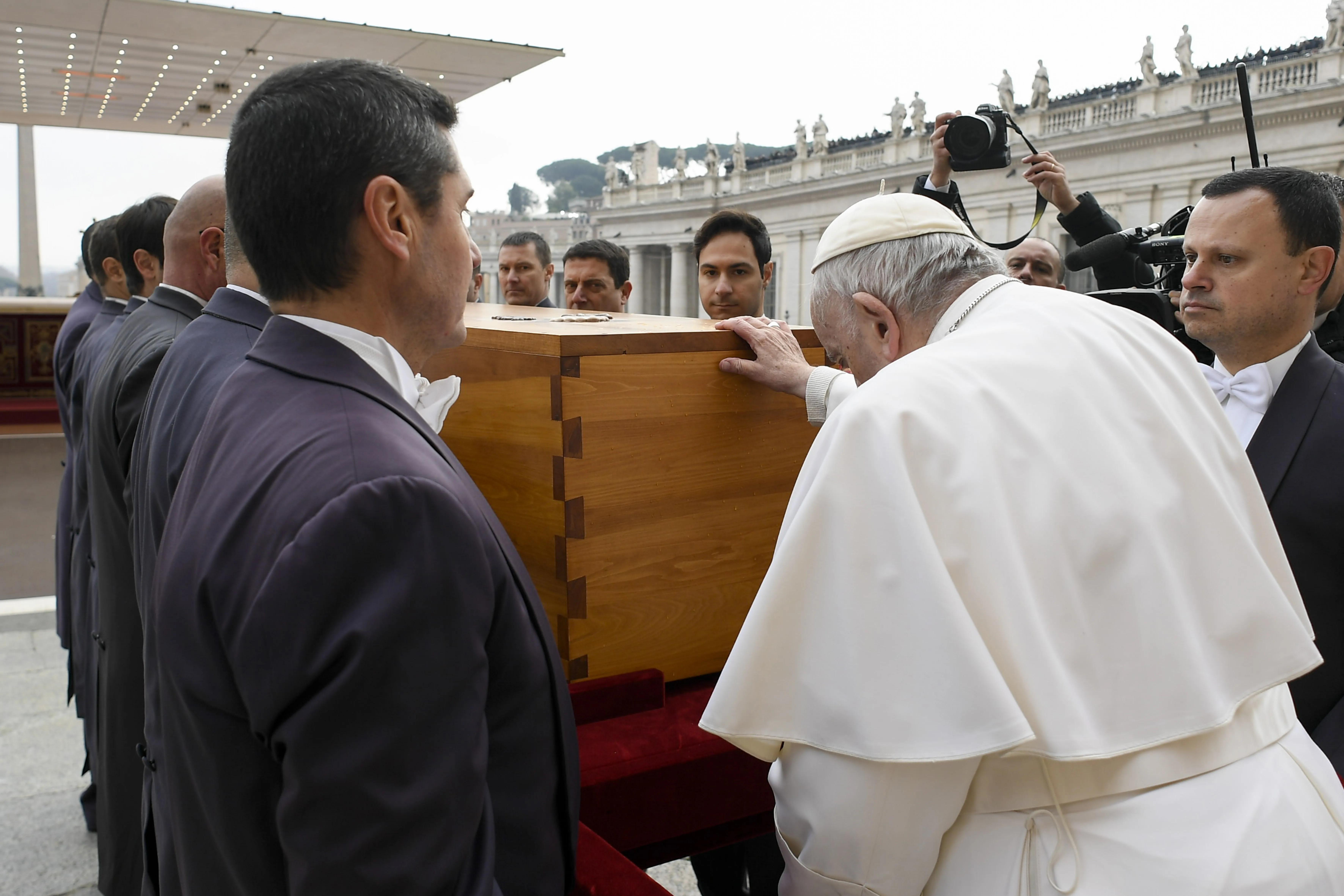 Pope Francis has repeatedly praised his predecessor. In April of last year, he described Benedict as "a prophet" of the Church's future and in November acknowledged his leadership in responding to sexual abuse. On Jan. 4, he said Benedict brought Catholics to an "encounter with Jesus." 
Francis, who has not ruled out retiring, said Benedict's decision to live in a converted monastery in the Vatican Gardens was a "good intermediate solution" but that future retired popes might want to do things differently.
"He was still 'enslaved' as a pope, no?" Francis said.
"Of the vision of a pope, of a system. 'Slave' in the good sense of the word: In that he wasn't completely free, as he would have liked to have returned to his Germany and continued studying theology."
Benedict "opened the door" to future resignations, Pope Francis said. The pope also confirmed what he said six months ago: If he should retire, he would choose the title of "bishop emeritus of Rome" — not "pope emeritus" — and live neither in his native Argentina nor the Vatican but in Rome.
Asked if he would reside at Archbasilica of St. John Lateran in a TV interview broadcast on July 12, 2022, Francis said "that could be," since he would like to retire "to hear confessions at a church."